What are British Pubs?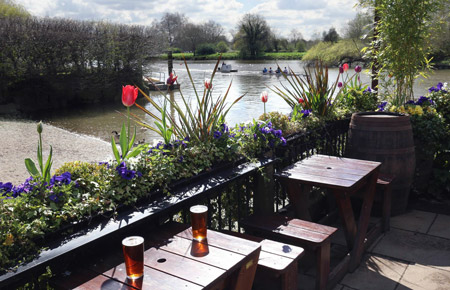 Even though most people have heard about British pubs, few people understand what they are, and most people don't realise how old they are. Pubs aren't a modern invention – they existed before Britain was invaded by the Angles, Saxons, Jutes and the Vikings. In fact, they were so common that in the year 970 AD, one Anglo-Saxon king, Edgar, tried to reduce the number of pubs (they were called 'alehouses') in each village.
Modern pubs were originally called 'taverns' and 'alehouses', which were places where people could get food and drink, and 'inns' which also offered accommodation for tired travellers. Charles Dickens wrote a lot about these places in his 'Canterbury Tales'.
Alehouses, inns and taverns became known as 'public houses' (abbreviated to pubs) during the reign of King Henry VII. Then, in 1552, a law was introduced that required 'innkeepers' (the owners) to have a licence. In 1577 there were approximately 17,000 alehouses, 2,000 inns and 400 taverns in England and Wales. To put that into perspective, it means there was one pub for every 200 people. Today there is approximately one pub for every 1,000 people in Britain!
A social centre
The modern pub plays an important part in British society and they are used by almost everybody at one time or another. People in other countries say the British are cold and unfriendly, but these people have probably never been to a British pub. Pubs are where British people can relax, meet their friends, find new friends and 'unwind'. In a pub everybody is equal; rich people like beer just as much as poor people..
A British pub has an area where customers can stand, usually around the bar. There may also be bar stools near the bar. It is perfectly normal for strangers to talk to each other in this area. It's not completely true, but you could say that the people standing up in a bar are open to conversation. Normally, there is also an area where people can sit around small tables. If you want privacy, you sit at a table, and unless people know you, they generally won't disturb you. There is another reason why pubs will always have standing areas and not only tables; people drink more when they are standing up. Strange, but true.
You can find friends and strangers chatting, talking about the weather or football, complaining about their wives, husbands or employers; talking about everything and anything. The atmosphere is usually relaxing and cheerful, but the atmosphere changes each day. During the week, people use pubs for a quick lunchtime drink or a social meeting, particularly in 'office areas' and city centres. On Saturday and Sunday lunchtimes, you will find families in pubs as well as groups of friends. On a Friday and Saturday night pubs are usually filled with younger people, many of whom visit a pub before going to a late-night restaurant or to a disco. On those nights pubs are very lively, noisy places.
Yes, on Friday or Saturday night there will be one or two people who drink too much. You know these people; these are the only customers TV companies are interested in… The reality is that there are people who drink in excess, and people who drink in moderation. In the same pub, at the same time.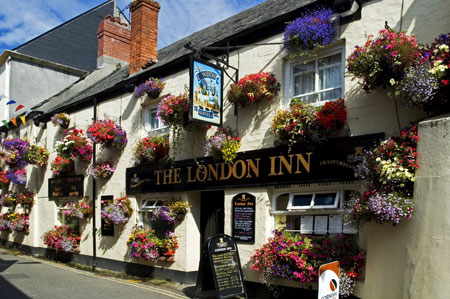 Different types of pubs
If you see photos of a 'British' or 'Irish' pub you will usually see a photo of an old building with lots of wood and gentle lighting. This is the stereotype, and these pubs exist. But there are many different types, both old and new. There are also chains of pubs, and these pubs are almost identical – like McDonalds, but with alcohol!
Lots of pubs have their own sports teams. In more traditional pubs you can see people playing darts (with real darts, not plastic imitations) or playing pool. Others have their own football team, and in many areas there are 'pub football' championships. One or two even have a rugby team (I used to manage a pub rugby team).
Many pubs also serve food. Some pubs offer 'cheap and cheerful' food, and don't pretend to be restaurants, but there are also 'gastropubs' where food is much better quality, and even pubs which have Michelin stars for their food and restaurant areas. In quieter country areas, most pubs offer 'home cooked' food, and this is often very good quality. On a Sunday lunchtime, pubs in pretty locations selling good quality food will usually be packed with people enjoying a traditional 'Sunday Roast'.
Beer
You can't walk into a British pub and ask for a beer. It won't work – it's a bit like saying "I want something to drink." The barman will just look at you and wait for you to say what you want. Look at the pumps in front of you; you'll see at least a half dozen different types of beer, and also cider in many pubs. There is always Lager and Bitter, often different varieties. Then you have Light Ale, Pale Ale, Mild Ale, India Pale Ale and Stout. Then there are 'Real Ales,' 'Cask Conditioned Ales', and 'Porter' and even 'Craft Ales'. There are more… and if you are fortunate enough to try each different type, and are still conscious afterwards, the barman will usually be kind enough to call a taxi to take you home!
Happy Hour
Many Italian bars have what they call "happy hour". It Italy, the owner of the bar is the person who is happy, not the customer (your drinks cost twice as much). 'Happy hour' started in the UK as a way to encourage customers to visit their local pub in the early evening, when there are few customers. Customers could be happy for an hour because the drinks were half-price. A different concept….
You can find 'British' and 'Irish' pubs all around the world but the reality is that they are very rarely anything like the 'real thing' because neither the owners nor the customers understand what a British pub really is. You need to be British to understand. And you won't know what 'British' means until you've spent some time in a genuine British pub!
If you'd like to take a look at some of the different pubs around the UK, have a look at the links below. Whatever your preference, you'll find one you like!